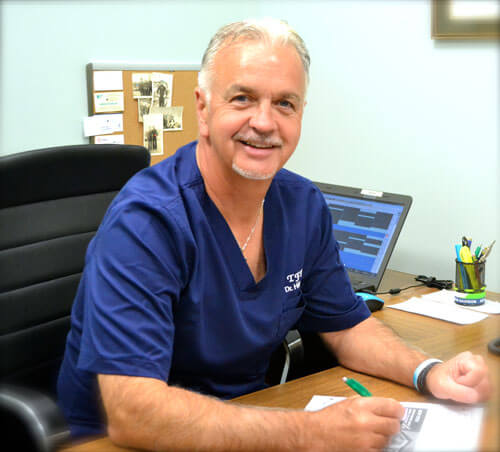 ---
Dr. Hill has practiced dentistry in the Town of Tyngsboro for more than 38 years. He was born and raised in Lowell, Massachusetts. He is a graduate of Georgetown University School of Dentistry (1984), St. Anslem College (1979), and Bishop Guertin High School in Nashua, NH. Dr. Hill resides in Nashua and is a long-time member of the American Dental Association.
Dr. Hill established Tyngsboro Family Dental Practice in 1985 when he saw the need for another dentist in the growing town. He began his practice at Pondview Square and for the past 15 years he has been located at 94 Middlesex Road.
Dr. Hill has always enjoyed practicing dentistry in Tyngsboro where he has seen many families grow and mature. He has always taken pride in his practice and cares about his patients, treating them with the attention and respect they deserve.
Dr. Hill who will turn 66 this coming November, recently transferred ownership of Tyngsboro Family Dental Practice to Dr. Joseph Dudlek. Dr. Hill will still be around to treat and take care of his patients on a part time basis. He is excited about the future of Tyngsboro Family Dental Practice and knows that Dr. Dudlek along with Dr. Markham, who has been an associate for two years, will continue the tradition of quality care that the patients of TFDP have come to expect for the last four decades.
---